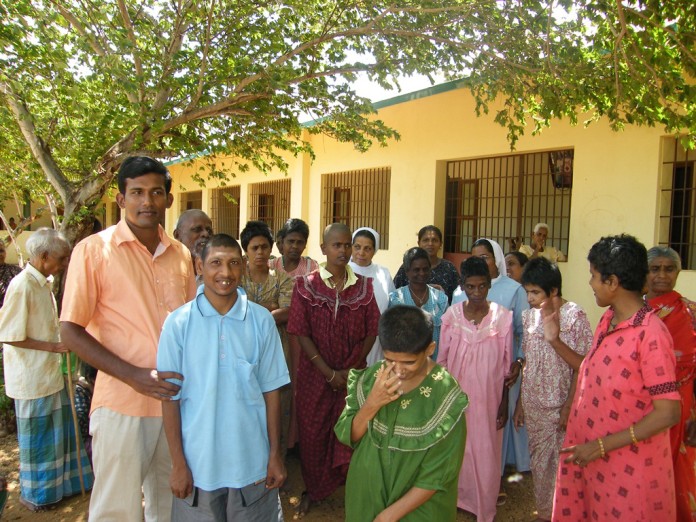 Anpu Illam (Love Home) is the home and haven of the marginalized, outcasts, abandoned and neglected orphans and mentally deranged.
Those street urchins wandering along bus stands and railway stations have none to sympathize  them. We see them vying with stray dogs for their daily bread among the  "thrown aways" of hotels and restaurants. They have no homes, relatives and friends. No hand is there to render them a hel when they fall ill or to bury them when they die. They fear to face people because they feel they are outcasts and not part and parcel of the society. They run away from society as they can't face the people. If it all they approach the people it is for a crumb of bread to appease their hunger.
People often mock at them, reject and despise them. They ignore or walk away from them like the Priest and Levite in Christ's parable of Good Samaritan. Civilians are often ashamed to recognize them as belonging to civic community  and deny these unfortunate groups their rights and deserts.
Anpu Illam was founded by the MCBS Fathers on 20th December 2000 with a view to convince the orphans and the mentally deranged that they too are human beings who warrant love and human considerations. Anpu  Illam was officially inaugurated by His Excellency George Alenchery, the Bishop of Thuckalay on 10th February 2001.
Anpu Illam is on the Panpoli Road near Thenpottai village five kilometers away from Sengottai Town in Tamil Nadu. At present there are 44 inmates- 30 women and 14 men-all of them are sick either mentally or bodily.
The institution is meant to develop the corporal, mental and spiritual well being of the inmates. Above all, the inmates  are trained to feel that they too have a position and worth in society in par with others. That is what Anpu Illam stands for.
Address:
Anbu Illam
Home for Destitute and Street Children
Door No. 2/2, Vadakarai Keelpidakai
Sencottai – 627 812, TN
Telephone:        04633  235958
E- mail: mcbsanpuillam@gmail.com