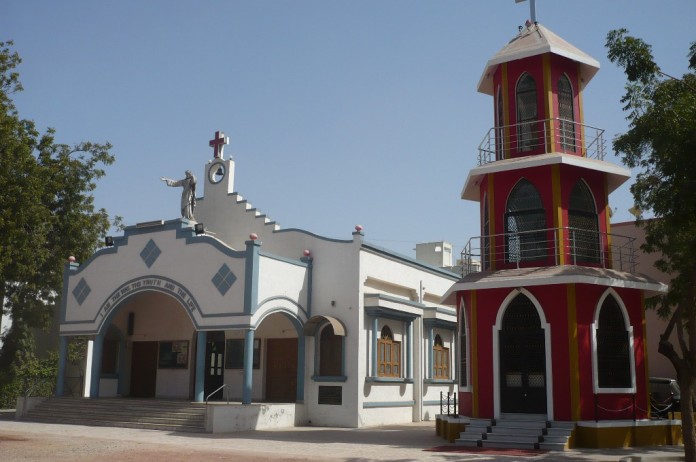 In response to the request of Cardinal George Alancherry, the Major Archbishop of Syro-Malabar Church, the MCBS Emmaus province took a bold step to provide pastoral assistance to Syro-Malabar Diasporas in the state of Gujarat. Our priests are working mainly in the two dioceses of Ahmadabad and Baroda. Our priests stay in the Latin Catholic Churches and minister to the Syro Malabar Catholics. At present we are entrusted with 5 parishes; 4 in the diocese of Ahmadabad and 1 personal parish in Baroda Diocese with 5 other sub stations.
Ahmedabad Diocese
In 2009 MCBS Emmaus Province made an agreement with Ahmadabad diocese to take care of all the Syro-Malabar faithful. Our priests stay at different rectories in the  parishes of the diocese.
Members
Fr. Sebastian Thannickal (Maninagar Parish)
Fr. Raphael Karapilly (Sabarmati & Hansol Parish)
Fr. John Paul Thekkumcherikunnel (St. Jude Parish, Taltej)
Address   :  St Joseph's Church
Khrist Nivas, Maninagar East
Ahmedabad, Gujarat – 380 008
Baroda Diocese
In the diocese of Baroda there is one personal parish under which we have five other centers including Vapi and Umergaon. St. Alphonsa's Church is our personal parish. We have got an English Medium School at Pandeasra. St. Thomas chapel Pandesara, Mother Mary Church Bhestan, Christ the King Bardoli, Vapi and Umergaon are the station Churches. Our priests in Baroda diocese stay in rented buildings and we do not have any house of our own.
Members
Fr. James Pulichumackal (Vicar & Manager, Surat)
Fr. Joseph Paravakad (Principal & Asst.vicar, Surat)
Fr. George Kuzhickattumyalil (Asst.Vicar, Vapi and Umergaon)
Address   :  St. Joseph's English Medium School
Plot No: 04, Darji Mahallo
Near Ram Mandir
Pandesara, Surat – 394 221, Gujarat